Introduction: Prepare to step into a realm of martial arts like never before as Premier Projects proudly reveals the much-anticipated Premier Projects MMA Arena and Academy by Francis Ngannou. This revolutionary endeavor is poised to transform the martial arts landscape in Africa, with a special spotlight on Cameroon, the home country of MMA icon Francis Ngannou. Get ready to witness an extraordinary evolution in martial arts as we inaugurate this cutting-edge arena on June 27, 2023.
A Collaborative Triumph: The Premier Projects MMA Arena has materialized thanks to the invaluable support of Premier BET Cameroon and La Royale des Jeux, underscoring their shared commitment to leaving a lasting mark on martial arts, not only in Cameroon but across borders. This partnership merges the expertise and resources required to establish a world-class training facility set to elevate martial arts to unprecedented heights on the African continent.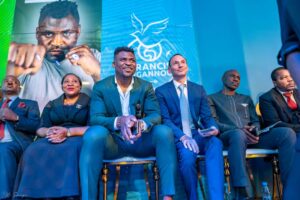 Embracing Social Responsibility: At Premier Projects, we comprehend the weight of our social responsibility. The Premier Projects MMA Arena and Academy serve as a testament to our dedication to giving back to the communities where Premier Bet and Premier Loto operate. It stands as a collective gift to Cameroon, offering aspiring martial artists unmatched opportunities for growth, development, and achievement.
Training and Beyond: The Premier Projects MMA Arena and Academy are resolutely committed to providing an all-inclusive platform for martial artists from diverse backgrounds and skill levels. Whether you're a seasoned pro or taking your first steps into the world of martial arts, our academy extends comprehensive support and training under the guidance of seasoned professionals. Our mission transcends mere training; it's about nurturing talent, promoting discipline, and fostering unwavering camaraderie within our martial arts community.
The Francis Ngannou Touch: Collaborating with MMA World Champion Francis Ngannou catapults the Premier Projects MMA Arena and Academy to unprecedented heights. Ngannou's involvement infuses unparalleled expertise, inspiration, and a profound passion for martial arts into our project. His presence is set to inspire and motivate the next generation of fighters to push their boundaries and achieve greatness.
Reflecting on the academy's development, Ngannou expressed his disbelief and gratitude for turning his dream into reality. "I can't believe this is a reality because, despite the events I've experienced, as significant as they were, it has never felt this real. Why? Because this is where everything begins," Ngannou stated.