On the 11th of December 2022, Premier Bet CSR division, Premier Projects, the CSR division of Premier Bet and Premier Loto, launched its newest basketball arena and basketball academy in Kinshasa. They renovated an existing basketball court in the capital where the community can gather and practice basketball safely.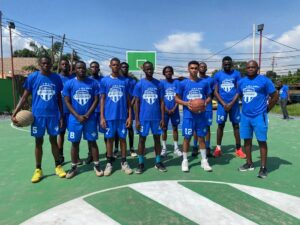 Premier Projects Academy by Newgen
Premier Projects partnered with New Generation Basketball, a Congolese basketball team based in Kinshasa, to create a basketball academy for young, talented, passionate basketball players aged between 13 and 16. The goal is to provide them with the support and equipment they need to develop their skills and increase their basketball professional opportunities. Founded in 2012, New Generation has the ambition to mentor Congolese youth and help them pursue their professional dreams, nationally and internationally. In 2016, they won the Coupe du Congo for the first time and the following year they participated in the 2017 FIBA Africa Clubs Champions Cup.
Premier Projects Arena
Premier Projects is proud to open a fully refurbished basketball arena in the Democratic Republic of Congo. This arena is located in Kinshasa and is accessible to everyone willing to play basketball in a bright environment, free of charge. Premier Projects believes that the right environment will help and provide support to the right people and sometimes what is missing between being good and being great is practice and dedication. This arena is for dedicated people on their way to greatness.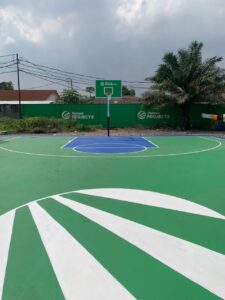 Premier Projects in the Democratic Republic of Congo
As part of its social responsibility strategy, Premier Projects, the CSR division of Premier Bet is creating the first Pan African CSR sports platform in order to give back to the incredible communities where Premier Bet operates. Premier Projects build arenas and academies to impact the African youth through sports.  The goal is to use sport, as a catalyst to inspire and provide the young generation with a good environment to pursue their dream!
Basketball industry in the Democratic Republic of Congo
Currently, despite the growth of talented basketball players in DRC, only a few Congolese players, like Bismack Biyombo, realise their dream of becoming successful basketball players. Basketball in Congo is very popular but still limited due to the lack of infrastructure, training equipment and professional coaching. Premier Projects Arena by New Gen and Premier Projects Academy by New Gen were created to fight against these shortcomings by giving opportunities to young players and strengthening and celebrating basketball in the country.
#proudlyafrican #CSR #team #DRC #RDC #Congo #Premierbet #Premierloto # Premierprojects #Basketball #NBA #basketballacademy #africa