On January 14, 2023, Premier Projects (Premier Bet CSR division) officially launched Premier Projects Basketball Arena. They renovated a basketball court in the capital's city centre for the local community to enjoy and practice basketball in a safe and bright environment.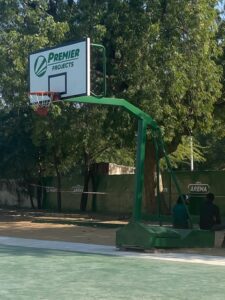 Premier Projects Arena – Lycee Felix Eboue
Located in N'Djamena, this basketball arena was renovated by Premier Projects, on behalf of Premier Bet Chad, for the people of the commune. This arena is for basketball players and is easily accessible.  The basketball court of the Lycée Éboué in N'Djamena is a mythical place where the greatest names in Chadian basketball have trained. Over the years, it has fallen into an increasingly dilapidated state. It is now fully renovated, bright and functional and equipped with solar panels to play matches even at sunset, much to the delight of the players. Premier Projects' hope is to see the next big basketball names training at this new Arena.
Premier Projects in Chad
Premier Bet CSR division, Premier Projects was created to give back to the incredible communities where Premier Bet operates. Premier Projects wants to impact young people with its new social responsibility strategy. The goal is to use sport, to positively impact and inspire the young generation! Sports require hard work, focus and discipline and Premier Projects' strategy is the empower the youth by providing them with the space to acquire these values.
Basketball industry in Chad
Basketball is a sport that has become important in Chad, especially in urban areas. The popularity of this sport has been growing especially in the last decade. The Chadian national basketball team has become increasingly competitive. In 2011, it qualified for the African Basketball Championship.